Safety Decking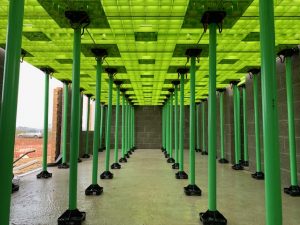 Safety decking from Network Scaffold Services is an innovative fall prevention system plus a light-duty access platform.
We have looked to diversify into the safety decking market for a couple of years, for systems being used in the New Build construction sector. After researching alternatives, we felt a new product would be the best avenue to offer our existing clients, whilst actively looking to build up a portfolio of new clients specifically looking for this product.
Easy to erect, it consists of components used when forming an access deck that prevents falls as the structure reaches the storey height for the installation of floor joists, concrete beams or roof trusses.
Why choose our decking
Reduce installation and dismantle times – Traditional scaffolding tubular birdcages are more difficult to put up and take back down. Using safety decks cuts your installation and dismantling times by 70% (according to industry statistics) reducing labour for staff and get the job done much quicker.
Ease pressure on building areas – Decking solutions are extremely lightweight with any pressure they add to a build being minimal. You will also limit the weight on the level itself as it lowers the amount of loading required as this will be on the deck instead.
Self-contained – Safety decks are an entirely standalone piece of equipment and are completely self-supporting, ensuring there is little disruption to your project when its brought in and taken back out.
Installation doesn't require any work at height – One of the main reasons safety decks are used is to maximise safety on sites. Throughout both the installation and dismantle your workers won't need to be concerned about working at height.
Increased load capacity – Internal decking increases your loading capacity means your workers can get on with their job with less risk when getting on and off the scaffold.
Solid and Secure Safety Decking
Network Scaffold safety decking will make your construction site safe and conform to the latest HSE guidelines. It will also give you further reassurance that you and your team are working from the most secure working environment.
This decking can also be erected to an unlimited area within an enclosed zone plus it is quick to install and will increase the installation rate of your team for precast flooring systems, timber joists and roof trusses. Your workforce will have a fully safe and clear working area plus maximum freedom of movement.
Here are some of the benefits of choosing our system –
Safe Decking
Quick and easy installation
This system can be fitted into almost any area
Resistant to UV degradation, rot and chemical resistant
Non-slip surface
Locking pins to secure all components together
Suitable for all roof truss work
Suitable for chamber joist floor installation
Full supply and installation service available
Network Scaffold carry out robust and rigorous testing over and above the British standards specifications to make sure the absolute safety and durability of Network Safety Decking.
The following components are included in the hire or purchase of our system –
Panels
Legs
Base/heads
Pins
Camstraps
Network Scaffold also offers delivery and training for all purchases of our safety decking system. We understand the importance of introducing our product to each client, and providing a face-to-face system means we can establish a genuine working relationship and start as we mean to go on.
Get in Touch to See How We Can Help You
If you are looking for a reliable safety decking system, please contact Network Scaffold with your requirements. We are the leading provider of scaffolding services across Derby, Nottingham, Burton-on-Trent and the nearby areas.