Plastic Hoarding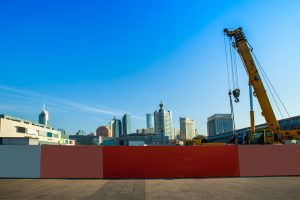 At Network Scaffold Services, we offer plastic hoarding installation services for anyone requiring a site boundary to be hoarded off effectively and securely.
The best feature of plastic hoarding is that our clients can choose whether they wish to apply branding, advertising or marketing using vinyl wrapping to showcase their idea, upcoming project or related products.
Securing construction sites with plastic hoarding is not just about keeping intruders out, it is also essential for ensuring the safety of the general public passing by. The Health and Safety at Work etc Act 1974 and the Construction (Design and Management) Regulations 2015 by the HSE's Construction division are clear about the need for secure hoarding around construction sites.
Unlike timber construction panels, our plastic panels are impervious to water, meaning they do not rot and can be used multiple times, which will save you money on investing in standard plywood products.
When used with the simple aluminium top hat fixing system, assembling these panels can happen quickly and efficiently. The surface is jet washable and vinyl compatible making it easy to maintain.
Benefits Of Plastic Hoarding
Not only can it promote your project or product to the public, the installation of our plastic hoarding has other fantastic benefits, this includes:
Secures your project – Construction design and management regulations state all building firms need to take steps to prevent unauthorised entry to their sites. This includes trespassers or vandals, meaning securing a perimeter around the works and installing adequate hoarding before work starts. The HSE also states companies must physically design site boundaries using appropriate signage.
Protects the public – Hoarding will protect the general public from any potential injury with a barrier provided between possible dangers, including building equipment, on-site vehicles, dust, falling objects and any other common hazards on construction sites.
Keeps your project under wraps – Site hoarding helps to keep your project under wraps until work is finished and it is ready to be revealed. This allows your site to nicely blend into the surrounding area and avoids any unnecessary exposure.
Cost-Effective – Our hoarding panels are a cost-effective solution for companies who require hoarding. Unlike traditional timber hoarding, they can become damaged during the process. Our plastic panels are durable yet lightweight, making them easy to install and dismantle. This can help companies save money on new hoarding as our hoarding panels can be used multiple times for future projects or renovations.
Where Can Hoarding Be Used?
Because our plastic panels are durable and lightweight, they are versatile and suitable for many types of sites. Here are some examples of how plastic hoarding can be used across various sites:
Construction and demolition projects

Internal or external shop frontage

Hoarding scaffolds and structures

Festivals and events requiring temporary fencing

Offices, soundproof areas and sterile areas in hospitals
This hoarding can be customised to receive corporate branding that could include doors and windows. Once installed and fitted by the manufacturer, it will be certified which means the structure can withhold pressure from the wind as well as other loads. Regular checks will be carried out to ensure the hoarding remains robust and secure. Network Scaffold will also dismantle the hoarding for you, once you have finished with it, ready to be reused on another site or project in the future.
For Plastic Hoarding In The Midlands, Contact Network Scaffold
If you are looking for plastic hoarding installation services in the Midlands such as Derbyshire, Staffordshire or Nottingham? At Network Scaffold Services, we are a well-recognised scaffolding company based in Derby. If you are unsure of how much hoarding you will need for your project, our team of specialists will be happy to advise you. Get in contact today by calling us on 01332 510095, or emailing us at office@networkscaffold.co.uk for more information.