We are aware that our operations and those of the construction industry in general can impact on the environment we live and work in and so are committed to reducing any negative impact our operations could cause.
We aim to strike an equilibrium between fulfilling our clients' requirements, ensuring the safety of clients, the public and our operatives and protecting the environment around us.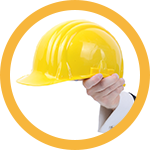 We recognise that the disciplines of health and safety are an integral part of its management function. The organisation views these as a primary responsibility and to be the key to good business in adopting appropriate Health & Safety Standards.
The organisation's Health & Safety policy calls for continuous improvement in its Health & Safety management activities.

As a service-led scaffolding company that works throughout Derbyshire and its neighbouring counties, we work to all current legislative standards and operational procedures. Through our commitment to good working practice, high standards and excellent workmanship we offer services in access scaffolding, edge protection, alloy towers, sub-contract labour only work, and design.