Scaffolding in Staffordshire
Are you looking for scaffolding in Staffordshire which guarantees to help you complete your project safely, quickly and to the highest possible standard? If the answer is yes, you've come to the right place! At Network Scaffold Services UK Ltd, we often supply and deliver high quality scaffolding in Staffordshire and surrounding areas. All of our scaffolding services are available to private individuals, such as homeowners and landlords, and we also regularly provide scaffolding solutions to local authorities and domestic, industrial and commercial construction applications. So, no matter how big or small your project is, at Network Scaffold Services UK Ltd, we guarantee to have a scaffolding solution available at a competitive price to meet your every need!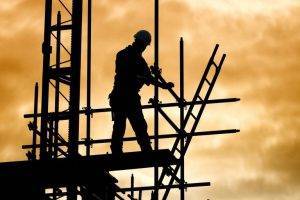 Reliable Scaffolding in Staffordshire
Scaffolding is a vital piece of equipment when it comes to construction and structural maintenance work as it provides access to otherwise difficult to reach places whilst providing support for work crews and their tools. Here at Network Scaffold Services, we understand how important scaffolding is to the safe competition of your project which is why we ensure that all of our scaffolding in Staffordshire adheres to the latest UK health and safety laws and regulations. Whether you choose access scaffolding, edge protection or alloy scaffolding towers, you can rest assured that you will be using a reliable piece of equipment which puts the safety or your work force and site first. To give you further peace of mind, we also ensure that all of our scaffolding in Staffordshire is erected only by our highly skilled workforce who are renowned for delivering a professional service that you can rely on.
In addition to our safety guarantee, we are also very dedicated to reducing negative impacts that our operations could potentially have on the surrounding environment and public. Unlike many scaffolding providers, we place a great emphasis on following a strict environmental policy which aims to reduce waste, pollution and negative emissions.
Put simply, by choosing Network Scaffold Services, you are guaranteed reliable and professional scaffolding which will ensure that your project is completed within a safe and controlled environment.
Contact Network Scaffold Services Today For A Quote on Scaffolding in Staffordshire
If you already know what it is that your project requires, you can request a no-obligation quote by simply calling us on 07733 890232, all of our scaffolding services are competitively priced to ensure that you get the best deal. Alternatively, if you would like more information about any of the scaffolding services that we offer in Staffordshire, please do not hesitate to contact a member of our friendly and experienced team today.