Scaffolding in Loughborough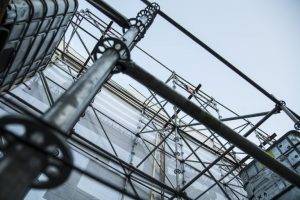 Network Scaffold Services is the leading supplier of scaffolding in Loughborough. Whether you are a private individual or a local authority, we can tailor our services to meet your needs. With years of experience working within the scaffolding industry, you can feel confident that you'll be receiving a high standard service.
Types of Scaffolding in Loughborough We Provide:
Network Scaffold Services offer a range of services including:
Things to Consider When You Need Scaffolding
There are a number of factors that determine what sort of scaffolding is best for your project. Things such as regional variations can have an effect on the price of your quote but here are some others to consider –
Length of Hire – The common period of the scaffold hire is between six to eight weeks whereas if you require it for longer you will be required to pay an additional weekly rental rate thereafter.
Height – The higher your scaffolding needs to go, the higher the cost will be. Other factors include potentially having to scale a narrow alleyway or place footings on public land.
The number of Walking Levels – The more walking levels required, the higher your scaffolding quote will be. For example, if you're working on a roof or chimney you will only need one lift and walking level whereas if you're having your house painted, two or more walkways will be required.
Restricted Public Access – If you need scaffold erecting on a public road or footpath you will need a licence from your local council.
Special Requirements – The simplest way to build scaffolding is to go straight up from a flat footing on private land but there are times when special requirements are needed. This could include having to bridge a gap over a driveway, pathway or conservatory. Using specialist equipment will cost more but will make the job much easier.
Reasons to Use Our Scaffolding
Here are some reasons why our scaffolding is the best application for your project –
Easy Access Provided – Easy access when working at height is extremely important. No matter the height of your building, support is required and this starts with scaffolding. Custom designs can also grant full access to all sides of a building plus hard to reach areas.
Quick Assembly – Scaffolding from Network Scaffold is easy to assemble and just as easy to dismantle. This helps to save money and complete your project on schedule. Our fully trained operatives ensure a robust structure is erected with health and safety in mind.
Efficient – Having a safe and balanced scaffolding will boost productivity and reduce the number of accidents on your site. Our range of scaffolding provides a sound platform from which to work, which is imperative when working at height. Furthermore, you can keep essential tools within arms reach while work is being carried out, reducing the time spent carrying and fetching.
Safety and Quality Guaranteed
At Network Scaffold Services, we understand how important scaffolding is to the safety of your workers and to the competition of your project, which is why we ensure that our scaffolding adheres to the latest health and safety laws and regulations. We view health and safety as a primary responsibility and therefore ensure that every measure is taken to guarantee that your scaffolding is as safe and secure as possible.
In addition to our health and safety promise, we are also heavily committed to reducing any negative impacts that our operations could have on the surrounding environment and public. To do this we endeavour to reduce waste, pollution and negative emissions. Find out more about our environmental policy.
Leading Provider of Scaffolding in Loughborough
At Network Scaffold Services, we pride ourselves on our highly skilled workforce. Our equipment is also reliable and efficient. If you would like more information about our scaffolding, please do not hesitate to contact a member of our friendly and experienced today.
If you have a project that needs scaffolding in Loughborough, we are your only destination!