Scaffold Erecting in Burton on Trent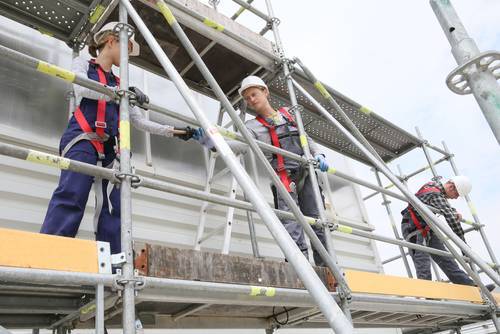 If you are looking for a scaffold provider who is reliable and professional at all times, look no further than Network Scaffold Services.
We are the leading supplier of scaffold erecting in Burton on Trent and the surrounding areas. With an extensive knowledge of industry regulations, a wealth of experience in the local area and an established reputation for delivering the highest standards, Network Scaffold is your best choice.
Whether you are a private individual, a local authority, or a contractor, we can provide a competitive scaffold hire service which puts your needs first.
Responsible Scaffold Erecting
Whether you have a large-scale project such as construction work, or you have a small project such as roofing repairs or maintenance, we can offer the perfect solution at a competitive price.
Scaffolding is one of the most dangerous parts of the construction sector, which is why we take health and safety extremely seriously. So much so that from day one, we strive to ensure that we completely reduce and contain any negative impacts that our operations could have on the surrounding environment, public, and onsite operatives.
Our aim is to strike an equilibrium between fulfilling our clients' requirements and ensuring the safety of everyone around us. This includes –
Utilising all resources efficiently
Reducing any pollution created
Promoting recycling and efficient waste management,
Ensuring every member of our team adheres to the latest legislative practices and regulations.
As standard, we also only allow a member of our own qualified and highly trained team to erect your scaffolding, whether it is edge protection, access scaffolding, alloy towers, or a bespoke system.
Contact Us Today for Scaffold Erecting in Burton on Trent
No matter how big or small your project is, we can help!
We regularly provide our services to domestic, industrial and commercial clients so please do not hesitate to get in touch to find out more!