Access Scaffolding in Burton on Trent
Network Scaffold Services offer professional and comprehensive access scaffolding in Burton on Trent which includes the design, construction and dismantling of your system. No matter how big your project may be, or whether it is domestic or commercial, we can provide access scaffolding in Burton on Trent which exceeds your expectations. From maintenance and repair projects, to complete construction projects, we can engineer the perfect solution for you.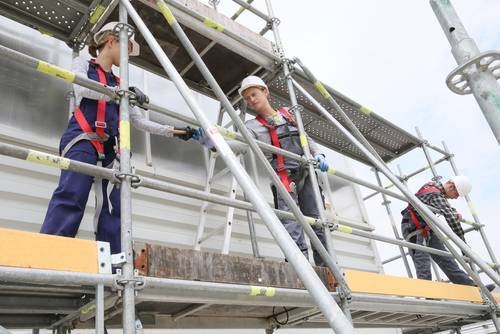 Access Scaffolding in Burton on Trent – What To Expect
Here at Network Scaffold Services, we regularly provide access scaffolding in Burton on Trent for a variety of projects including, but certainly not limited to:
Roofing maintenance and repair
New builds
Shoring for unstable structures whilst property redevelopment takes place e.g. bridges and buildings
Window cleaning
Should you require a bespoke system, our team of expert engineers can design a system which enables you to reach even the most hard to reach spaces and heights. By choosing Network Scaffold Services as your scaffolding provider, you will also benefit from the following services:
A complete site survey
No obligation quotations
Professional health and safety site management from start to finish – Including strict compliance with all applicable health and safety laws and regulations
Comprehensive support throughout – We work closely with all clients to ensure you get the support and results that you require
Scaffold safety inspections which will be carried out by our own fully trained operatives – We do not allow anyone outside of our team to erect and dismantle our access scaffolding in Burton on Trent and surrounding areas
Use of only the very best scaffolding materials
All our operations prior to construction and all the way through to the dismantling process will also be carried out following a strict environmental policy. Our aim is to help you to reduce negative impacts that your project may have on the surrounding environment and public
Could You Benefit from Access Scaffolding in Burton on Trent?
If you are in need of access scaffolding which is professionally managed and which guarantees you safety onsite at all times, look on further than Network Scaffolding Services. We are a BS OHSAS 18001:2007 accredited contractor and a member of the Scaffolding Association, so you are guaranteed a high level of workmanship to help you to complete your project safely and efficiently. For more information, please do not hesitate to get in touch.